Home Seller Resources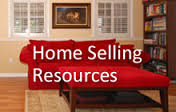 How do you get top dollar for your home?

Here are some resources that will help you get your house ready to sell!

Access these seller resources and find out what you can do to maximize your proceeds!

---
The condition of your home will have a huge impact on how fast it sells, and its eventual selling price …
---
Remember the 60-second rule: That's all the time you have to create a winning first impression …

Find Out More ›

---
New paint makes the entire home smell clean and neat, and can bring sellers top dollar ...


Find Out More ›
---
It's a common fact that clean homes net more money ...


---
---
You will spot several different types of plumbing systems in any housing market, incuding your own ...

---
The type of wiring in residential homes generally depends on when the home was built, where it was built and if it has been updated. In the older homes, knob and tube type wiring was the norm …
---
Sellers can be a little confused when they are asked to sign an asbestos disclaimer. Asbestos is a known carcinogen, and when exposed, tiny particles can be released into the air you breathe …